You Are Here: Mopar Truck Information : 1998 to 2003 Dodge Dakota R/T : Regular Specifications
Dodge Dakota R/T Regular Cab Specifications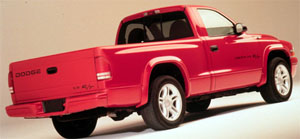 Assembly Plant: Dodge City (Warren, Michigan)
Introduction Date: Spring, 1998
EPA Vehicle Class: Regular Cab Compact Pickup
Engine:
5.9 liter Magnum V-8, 250 horsepower (186 kW), 345 lb.-ft. of torque (468 N-m).
Drivetrain:
Electronic 4-speed automatic transmission (46RE) with limited-slip differential.
Body:
Two Door-Regular cab. All steel body-on-frame.
Suspension:
Front: Upper & lower "A" arms, Coil springs, Gas charged shock absorbers, 15 mm stabilizer bar.
Rear: Live axle, 4-leaf longitudinal springs, Gas-charged shock absorbers, 19 mm stabilizer bar.
Steering:
Type: Power rack & pinion
Overall ratio: 14.8:1 Turning diameter: 36 ft. (1.1 m) – regular cab
Brakes:
Four-wheel ABS, Front Disc, Rear Drum
Dimensions (Inches) Regular Cab:
Wheelbase: 112 in. (2845 mm) Overall length: 195.8 in. (4973 mm)
Overall width: 71.5 in. (1816 mm) Overall height: 65.7 in. (1669 mm)
Box: 6.5 ft. (2.0 m)
Front track: 61.5 in. (1562 mm) Rear track: 62.5 in. (1588 mm)
Wheels: 17 x 9 in. Cast Aluminum Tires: 255/55 R17
Source Of Information & Photos – DaimlerChrysler Corporation, Chrysler Archives.
Please Note: Information found in this section is believed to be accurate. MyMoparTruck.com and the 440magnum Mopar Enthusiast Network assumes no responsibility for errors or omissions in anything that is referenced by or linked to this site. This information is provided "as is" and was obtained from the www, Books and other reference Materials.