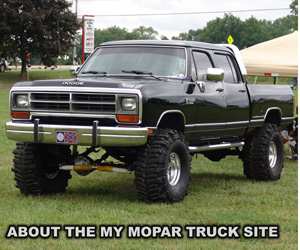 The MyMoparTruck.com site was started as an idea. A simple idea to showcase Dodge, Plymouth, RAM and Mopar related trucks and provide passionate truck enthusiasts with an site 100% devoted to trucks.
The site was originally launched in September 2004 as MyDodgeTruck.com, a spin-off of the main 440magnum Mopar Enthusiast Network site. For more information on using the site visit our help and F.A.Q. page.
The site offers owners and enthusiasts resources dedicated to trucks produced by the Dodge Truck division of Chrysler. MyMoparTruck.com is also one of the internets largest resources devoted to Dodge, Plymouth, Ram and other Mopar related trucks.
Re-Launched on February 1, 2013 as MyMoparTruck.com the site carries on our original idea of providing owners a place to show off their Mopar related trucks. The site also offers visitors a place to check out what a real Trucks are made of. Resources include the internets largest collection of featured Dodge, Plymouth and Ram Truck's, Information, Photo Gallery, Production numbers, Screensavers, Specifications and more.
About Dodge Trucks:
Founded as the Dodge Brothers Company in 1900 to supply parts and assemblies for Detroit's growing auto industry, Dodge began making its own complete vehicles in 1915. The brand was sold to Chrysler Corporation in 1928, passed through the short-lived DaimlerChrysler merger of 1998 – 2007 as part of the Chrysler Group, was a part of Chrysler LLC owned by Cerberus Capital Management, a private equity investment firm, and is now a part of the Chrysler Group LLC, which has an alliance with Fiat. Fiat has plans to evolve many Dodge, Chrysler, and Jeep existing platforms and products into Fiat-Chrysler co-developed vehicles.
About Ram Trucks:
In 2009, the truck division was spun off into the Ram brand, named after Chrysler's most popular truck, the Dodge Ram. Ram Trucks are marketed separately from Dodge cars.
About Our Mopar Trucks:
Over the years we have owned a few Dodge Truck products, our current stable includes a 1999 Dodge Dakota R/T. Some trucks we have owned in the past are a 2002 Dodge Dakota SXT and a 2012 Ram 1500 HEMI Express.