You Are Here: Mopar Truck Information : Dodge Shelby Dakota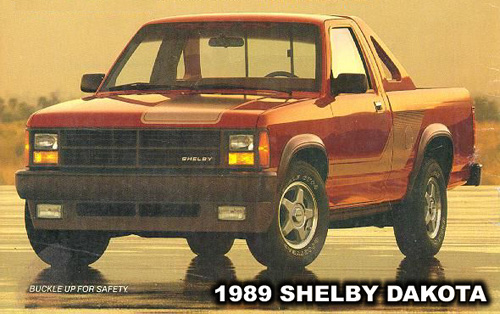 The mid size Dodge Dakota Truck was powered by 4 and 6 cylinder engines. Dodge changed that in 1989 by offering a Dakota pickup customized by Carroll Shelby. Assembled at Shelby Industries in Whittier, CA. The Shelby Dakota would be the first Dakota's to receive a V-8 engine. They would also be the first V8 rear wheel drive vehicles built by Shelby since the 1960's.
Shelby Industries started with a standard 112-inch wheelbase Dodge Dakota Sport truck. They then replaced the 3.9-liter V-6 with a 318 (5.2 liter) cubic inch V-8 with dual throttle body injection. The Shelby Dakota engine was rated at 175 hp at 4,000 rpm and 270 lbs.-ft. of torque at 2,000 rpm.
In order to make the 318 fit in the Dakota, Shelby Industries modified the cooling system. The Dakota had no room for a standard engine driven fan. A electric fan was used to over come this. The engine also used a dual snorkel air cleaner that functioned just like older musclecars. Shelby then plumbed the primary snorkel to the grill for cooler air.
A four-speed automatic linked to a 3.91-geared Sure-Grip differential rounded out the drivetrain. The heavy-duty suspension was carried over directly from the V6 Dakota Sport and featured Shelby five-spoke aluminum wheels with Goodyear Eagle GT+4s in 225/70HR-15.
On the outside, the Shelby Dakota was available in red or white. The package included a deep front air dam with integrated driving lights, Blacked out trim, Fiberglass light bar, Bold Shelby graphics down the sides including V8 graphics on each fender, Shelby Windsheild Logo and a chrome Shelby logo on the grill.
The interiors on the Shelby Dakota's were identical, the package included a leather wrapped steering wheel with Shelby logo. Shelby dash plaques, Shelby logo cloth inserts on the seats and door panels. Performance was reported at 0-60 in 8.7 seconds and the quarter mile in 16.5 seconds at 82mph. List price for the Dodge Dakota Shelby was $15,813 plus freight.
1989 Shelby Dakota Production Information
The Shelby Dakota was only available for one year with production totals around 1475 (480 in white and 995 in red).
1989 Shelby Dakota Specifications
Vehicle type: Front-engine, rear-wheel-drive, 2-door, 3-passenger pickup truck.
Engine:
Type: OHV-90, V-8, iron block and heads Bore x stroke: 3.91 x 3.31 in, 99.3 x 84.1 mm
Displacement: 5.2, 318 cu inch Compression ratio: 9.2:1
Fuel system: Chrysler electronic with dual throat throttle-body fuel injection.
Emission controls: 3-way catalytic converter, feedback fuel-air-ratio control, EGR, auxiliary air pump
Valve gear: Pushrods, hydraulic lifters
Max. Horsepower: 175 bhp @ 4000 rpm Max. Torque: 270 lb ft @ 2000 rpm Redline: 4750 rpm
Drivetrain:
Transmission: 4-speed automatic with electronic overdrive, high stall converter and aux. cooler.
Gear 1 – Ratio: 2.74 Mph/1000 rpm: 7.4 Gear 2 – Ratio: 1.54 Mph/1000 rpm: 13.1
Gear 3 – Ratio: 1.00 Mph/1000 rpm: 20.2 Gear 4 – Ratio: 0.69 Mph/1000 rpm: 29.2
Rear Axle: 3.90:1, limited slip
Dimensions and Capacities:
Wheelbase: 112.0 inch Track, F/R: 60.3/60.3 inch Length: 189.9 inch Width: 68.4 inch
Height: 64.2 inch Frontal area: 23.7 inch Ground clearance: 7.4 inch
Curb weight: 3626 lb Weight distribution, F/R: 59.9/40.1% Fuel capacity: 22.0 gal
Chassis/Body:
Type: full-length frame with rubber-isolated body Body material: welded steel stampings
Interior:
SAE volume, front seat: 55 cu ft Front seats: Bench Seat adjustments: fore and aft
Suspension:
Front: upper and lower wishbone type with coil springs, anti-roll bar, gas-charged shocks.
Rear: semi-elliptic two-stage leaf springs, gas-charged shocks.
Steering:
Type: power-assisted rack-and-pinion Turns lock-to-lock: 3.3 Turning circle curb-to-curb: 39.8 ft
Brakes:
Front: 11.4 x 0.87 in vented disc Rear: 10.0 x 2.5 in cast-iron drum
Power assist: vacuum with rear anti-lock control
Wheels and Tires:
Wheels: 6.0 x 15 in Shelby cast aluminum hollow-spoke
Tires: Goodyear Eagle GT + 4 M + 5, P225/70HR-15
Test inflation pressures, F/R: 26/35 psi
Please Note: Information found in this section is believed to be accurate. MyMoparTruck.com and the 440magnum Mopar Enthusiast Network assumes no responsibility for errors or omissions in anything that is referenced by or linked to this site. This information is provided "as is" and was obtained from the www, Books and other reference Materials.