You Are Here: Mopar Truck Information : Dodge Ram SRT-10

No other performance truck comes close to Dodge Ram SRT-10. No one else sports a class-obliterating 500 horsepower and 525 lb-ft of torque. And no "toy" truck can even think about topping 150 mph or reaching 60 mph in just over 5 seconds. Dodge Truck Enthusiasts now have two choices of the most outrageous pickup ever sold. The Dodge Ram SRT-10 and SRT-10 Quad Cab.

The Ram SRT10's massive power is delivered courtesy of the highest-displacement engine in a factory pickup truck—the same 8.3-liter V10 that powers the Dodge Viper. The V10's horsepower rating easily surpasses all other pickups—as well as virtually every production sports car in the world.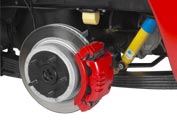 Ram SRT-10 delivers some serious stopping power for a longer period of time thanks to performance antilock four-wheel disc brakes. New for 2005, Dodge Ram SRT10 Quad Cab features unique opposed-piston red brake calipers and 15-inch rotors up front, with modified heavy-duty red calipers and 14-inch rotors in the rear.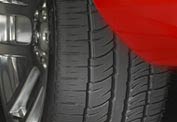 Standard 22-inch aluminum wheels round out the features of this awesome Ram.
And P305/40R22 BSW performance tires help transfer all that power to the pavement.
Source of information & Photos: DaimlerChrysler, Chrysler Archives
Please Note: Information found in this section is believed to be accurate. MyMoparTruck.com and the 440magnum Mopar Enthusiast Network assumes no responsibility for errors or omissions in anything that is referenced by or linked to this site. This information is provided "as is" and was obtained from the www, Books and other reference Materials.