You Are Here: Mopar Truck Information : Dodge Ram SRT-10 Concept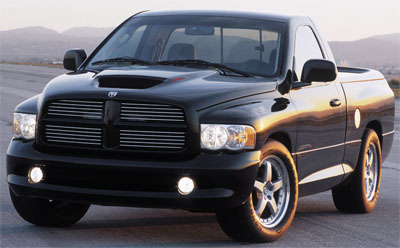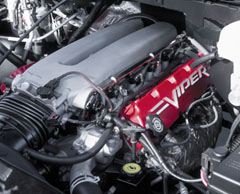 Providing an estimated 500 horsepower and 500 lb.-ft. of torque, the Dodge Ram SRT-10's power is channeled through a Viper six-speed manual transmission that connects to a modified differential and new driveshaft.
The Ram SRT-10 will accelerate to sixty mph in an estimated 5.0 seconds and deliver an estimated top speed of 150 mph. More impressively, Ram SRT-10 runs the 0-100-0 mph dash in an estimated 18 seconds.
Keeping all this power in check is a modified Ram rack and pinion steering and independent front suspension from the 2002 Dodge Ram.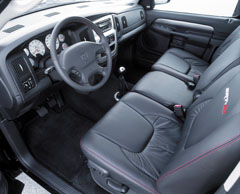 The Dodge Ram SRT-10 makes the most of its exclusive 24-inch wheels and 305/35 R24 high-performance tires, pulling an estimated 0.92 g's on the skid pad and hitting almost 70 mph on the slalom. A recalibrated, quick-ratio power steering unit enhances steering feel. Inside, red-piped leather and carbon fiber-look accents complement the performance attitude established by the SRT-10's outward appearance. Silver-faced gauges with Viper font and graphics have an appropriately recalibrated speedometer and tachometer.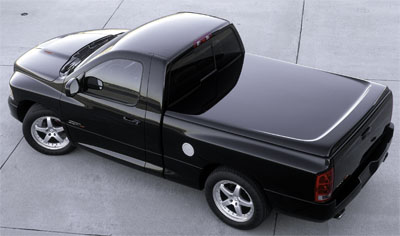 The Ram SRT-10's handling is enhanced by the addition of performance-tuned springs and shocks, a rear sway bar and an inch-lower ride height. Bringing the Ram SRT-10 to a halt are four-wheel disc Viper brakes, equipped with standard ABS. Fascia-mounted, faired-in brake ducts aid cooling.
Source Of Information & Photos: DaimlerChrysler, Chrysler Archives.
Please Note: Information found in this section is believed to be accurate. MyMoparTruck.com and the 440magnum Mopar Enthusiast Network assumes no responsibility for errors or omissions in anything that is referenced by or linked to this site. This information is provided "as is" and was obtained from the www, Books and other reference Materials.