You Are Here: Mopar Truck Information : 2005 Dodge Ram Daytona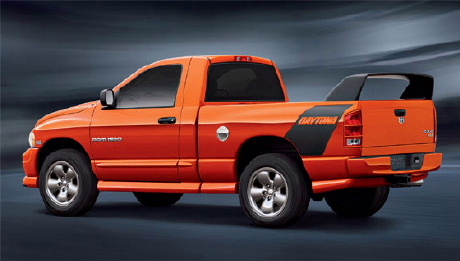 2005 Dodge Ram Daytona Information
Building on its storied legacy of power and performance, Dodge is bringing the historic Daytona nameplate to the Dodge Ram line of pickup trucks. The limited-edition 2005 Dodge Ram Daytona, with legendary HEMI power and bold Daytona-inspired styling, draws further attention to the Ram 1500's leadership claim as the most powerful light-duty pickup truck on the market. "The all-new, limited-edition 2005 Dodge Ram Daytona has a bold, race-inspired attitude for customers seeking a performance-packaged pickup like no other," said Darryl Jackson, Vice President, Dodge Marketing, Chrysler Group. "With 20-inch chrome wheels, a unique custom paint job and a huge rear spoiler, the Dodge Ram Daytona will turn heads on the street and on the track at Daytona."
The 2005 Dodge Ram Daytona is instantly recognizable with its massive 11-inch rear spoiler and complementary flat-black graphics on the bed sides, reminiscent of the 1969 winged Dodge Charger. Other noticeable features include a performance-style hood scoop, rear side-exiting twin chrome tips from the Borla exhaust, body-colored grille and tail lamp guards, and 20-inch chrome-clad aluminum wheels. Two compelling colors will be offered with the all-new 2005 Dodge Ram Daytona: Go ManGo! or Silver Metallic. The exterior color also appears on the center bezel on the dash. The 2005 Dodge Ram Daytona will be a limited-edition model, and will feature a numbered plaque on the dash.
The 2005 Ram Daytona is available as a 4×4 or 4×2 and in regular cab or Quad Cab body styles with the six-foot, three-inch bed. The regular cab features molded side sills while the Quad Cab includes a running board.
Included in the Daytona package is the 5.7-liter HEMI engine with 345 horsepower and 375 lb.-ft of torque coupled with a 5-speed automatic transmission and 3.92:1 rear axle ratio. The first 75 production 2005 Ram Daytona models debuted just prior to the Florida Dodge Dealers 250 NASCAR Craftsman Truck Series race at Daytona International Speedway Feb. 18, 2005. Prior to the race, Dodge Ram Daytona models with plaque numbers one through 75 took a ceremonial parade lap to mark the vehicle's "special delivery" to the Southeast regional Dodge dealers. The 2005 Dodge Ram Daytona is on sale now and is priced from $32,000.
Source Of Photos: DaimlerChrysler, Chrysler Archives
Please Note: Information found in this section is believed to be accurate. MyMoparTruck.com and the 440magnum Mopar Enthusiast Network assumes no responsibility for errors or omissions in anything that is referenced by or linked to this site. This information is provided "as is" and was obtained from the www, Books and other reference Materials.