You Are Here: Mopar Truck Information : Dodge Dakota Convertible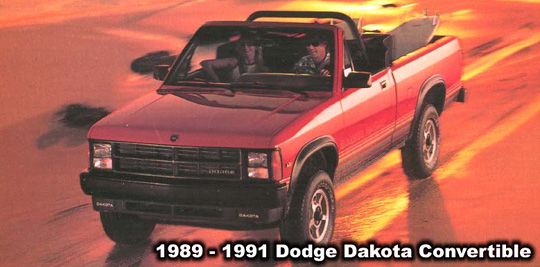 While not the worlds first production convertible truck (Ford offered a factory built roadster with a truck bed from 1925 through 1934). In 1989 Dodge would add this twist to its popular mid-size pickup by offering the Dakota Sport Convertible.
These cool pickups were built at Chrysler's Dodge City truck complex in Warren, Michigan. They were then shipped to the  a few miles away. ASC removed the roofs and added the necessary components to turn the Dakota into a convertible. Once completed the Dakota Sport convertible featured a manual vinyl top that could be folded back and covered with a boot, or completely removed.
1989 Dodge Dakota Convertible
The Dakota Sport convertibles were offered as either as 4x2s or 4x4s with shift-on-the-fly and a base price of $14,425. 1989 trucks came equipped with a 125-hp, fuel-injected V-6 engine mated with a five-speed manual or optional three-speed automatic transmission.
Standard equipment included an integral padded sport roll bar, 15-inch cast-aluminum wheels, tachometer, AM/FM stereo cassette radio, deluxe wipers, power steering, power windows, and door locks, dual remote outside mirrors and fog lights. Exterior paint choices were red, black or white. The the grill, bumpers, headlight bezels, wheel lip moldings, door and tailgate handles were painted in black.
On the outside the Dakota convertible included an acrylic ram's head hood medallion plus added tape graphics on the body sides and tailgate. Dodge sold 2,842 Dakota Sport convertible trucks in 1989.
1990 Dodge Dakota Convertible
The Dakota Sport convertible was also offered for 1990 powered by the 3.9-liter V-6, it was also joined by a second model, the Dakota SE convertible truck. The SE came powered by a standard 2.5-liter engine that offered a smooth-shifting, five-speed manual overdrive transmission. 1990 models were offered in Colorado Red, Bright White, Daytona Blue or black. Dodge sold 909 Dakota convertible trucks in 1990.
1991 Dodge Dakota Convertible
Some claim that ASC built eight 1991 Dakota Sport Convertibles to complete its contract with Dodge. If true, these may be the rarest Dodge Dakota's ever built. With under 3800 examples of this cool convertible truck built, they are sure to become collectible in the future.
Dakota 4WD Sport ragtop: Wheelbase: 112 inches, Length: 185.9 inches, Engine:3.9 liter, 125 h.p., V-6. Transmission: 5-speed manual; 4-speed automatic optional, Fuel economy: 15/19 m.p.g. manual; 15/20 m.p.g.
Dodge Truck Factory Advertisements: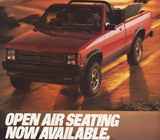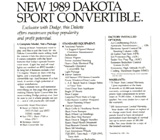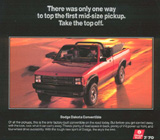 Please Note: Information found in this section is believed to be accurate. MyMoparTruck.com and the 440magnum Mopar Enthusiast Network assumes no responsibility for errors or omissions in anything that is referenced by or linked to this site. This information is provided "as is" and was obtained from the www, Books and other reference Materials.