You Are Here: Mopar Truck Information : 2006 to 2007 Dodge Dakota R/T
2006 Dodge Dakota R/T Truck Information
2006 saw the return of the Dodge Dakota R/T, however only with cosmetic modifications. Despite the "R/T" moniker which signifies "Road and Track", the newest Dakota R/T was simply an option package, characterized by a non functional hood scoop, exclusive gauge cluster, and hockey-stick style side stripes.
The package was available on both 2 and 4 wheel drive models.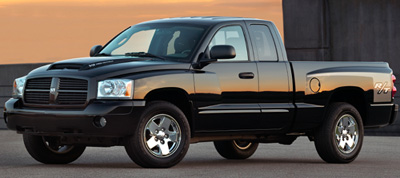 With the 260-horsepower 4.7-liter High Output V-8 as standard equipment, the 2006 Dodge Dakota R/T further amplifies the High Output V-8's prodigious power and performance.
The Dodge Dakota R/T model is available in Club Cab or Quad Cab body styles and features a unique sport appearance package in Inferno Red, Brilliant Black or Solar Yellow that includes a hood scoop, chrome exhaust tips, R/T cluster, headrest badging, cargo box decal and 17-inch chrome-clad aluminum wheels.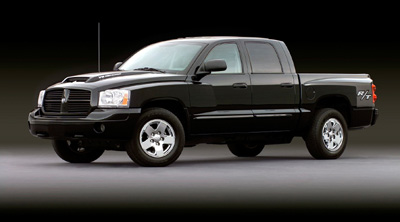 2007 Dodge Dakota R/T Truck Information
Features remained basically unchanged for the Dodge Dakota R/T pickup for 2007. It is unknown how many of these trucks were produced by Chrysler.
Source of Information and photos: DaimlerChrysler, Chrysler Archives.
Please Note: Information found in this section is believed to be accurate. MyMoparTruck.com and the 440magnum Mopar Enthusiast Network assumes no responsibility for errors or omissions in anything that is referenced by or linked to this site. This information is provided "as is" and was obtained from the www, Books and other reference Materials.