You Are Here: Mopar Truck Information : 2004 Dodge Ram SRT-10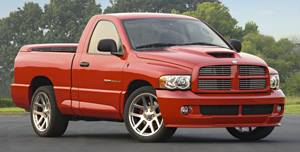 Dodge Unleashes the Fastest and Most Powerful Production Pickup Ever, the 150 MPH Viper-Powered Dodge Ram SRT-10 – The Dodge Ram SRT-10 packs a big Viper punch with a class-demolishing 500 horsepower and 525 lb.-ft. of torque. Topping 150 mph in maximum speed and reaching 60 mph in just over five seconds, Dodge has recalibrated expectations for truck performance.
This truck can accelerate like a dragster, yet it is not a coarse hot rod. The Ram SRT-10 represents a cohesive design that blends brute power with the engineering refinement usually reserved for the world's best sports cars, This is not a bolt-on kit for a Ram. The PVO team has created a new vehicle that blends a race-inspired interior, functional aerodynamics for high speed driving and a modified suspension to maximize handling without sacrificing ride. The Ram SRT-10 has been refined and perfected into a sports truck that is luxurious, fast and represents the ultimate in its class. No truck owner has ever experienced anything like the Dodge Ram SRT-10.
The Ram SRT-10's mayhem making ability is delivered courtesy of the highest displacement engine in a factory pickup truck the same 8.3-liter aluminum V-10 that powers America's ultimate sports car, the Dodge Viper. The V-10's horsepower rating easily surpasses all other pickups not to mention virtually every production sports car in the world. Resting on unique engine mounts; the V-10 engine delivers 90 percent of its whopping 525 lb.-ft. of torque from 1500 to 5600 rpm.
The cast aluminum cylinder block has interference-fit cast-iron liners and cross-bolted main caps. The Ram SRT-10 also features a unique oil pan, throttle linkage, new "Hi-Flow" exhaust manifolds, new transmission mounts and a modified Ram Heavy Duty radiator tailored to fit the between the NASCAR inspired grille baffles. The rest of the V-10 is straight from the Viper, with a six main bearing crankshaft with cross-bolted main bearing caps. Despite larger diameter aluminum alloy pistons than the previous generation's 8.0-liter Viper engine, the pistons weigh less and are included along with all-new, lighter and stronger cracked-steel connecting rods.
Cylinder heads on the V-10 are semi-permanent mold (SPM) 356 T6 aluminum alloy. Low-profile die-cast magnesium cylinder head covers feature steel internal baffles and anti-slosh foam. The Viper V-10 boasts a single-piece, central dual-plenum, cast aluminum intake manifold and a single, non-staged two-barrel throttle body for higher peak horsepower RPM. The intake manifold is an all-inclusive Integrated Air and Fuel Module (IAFM) with tubular fuel rails, injectors, sensors, wiring and throttle body. A Ram Heavy Duty cooling system is modified to handle the needs of the new Viper engine. A custom dual exhaust system is mounted to new exhaust manifolds.
The Dodge Ram SRT-10 focuses its power through a new, purpose built Hurst shifter and a modified version of the Viper SRT-10's Tremec T56 six-speed manual transmission. The T56 is fully synchronized with electronic reverse lockout. A new 4.5-inch aluminum driveshaft runs from the Viper-sourced transmission to a Dana 60 rear axle with a 4.11 ratio to deliver the massive torque to the road.
Source Of Information: DaimlerChrysler Corporation
Please Note: Information found in this section is believed to be accurate. MyMoparTruck.com and the 440magnum Mopar Enthusiast Network assumes no responsibility for errors or omissions in anything that is referenced by or linked to this site. This information is provided "as is" and was obtained from the www, Books and other reference Materials.